2022 AudioFile Golden Earphones Award


THE SANDMAN ACT II – NEW YORK TIMES AUDIO BESTSELLER SEPTEMBER 2021
THE SANDMAN ACT I – NEW YORK TIMES #1 AUDIO BESTSELLER, JULY/AUGUST 2020
James McAvoy in Studio with Act I Disc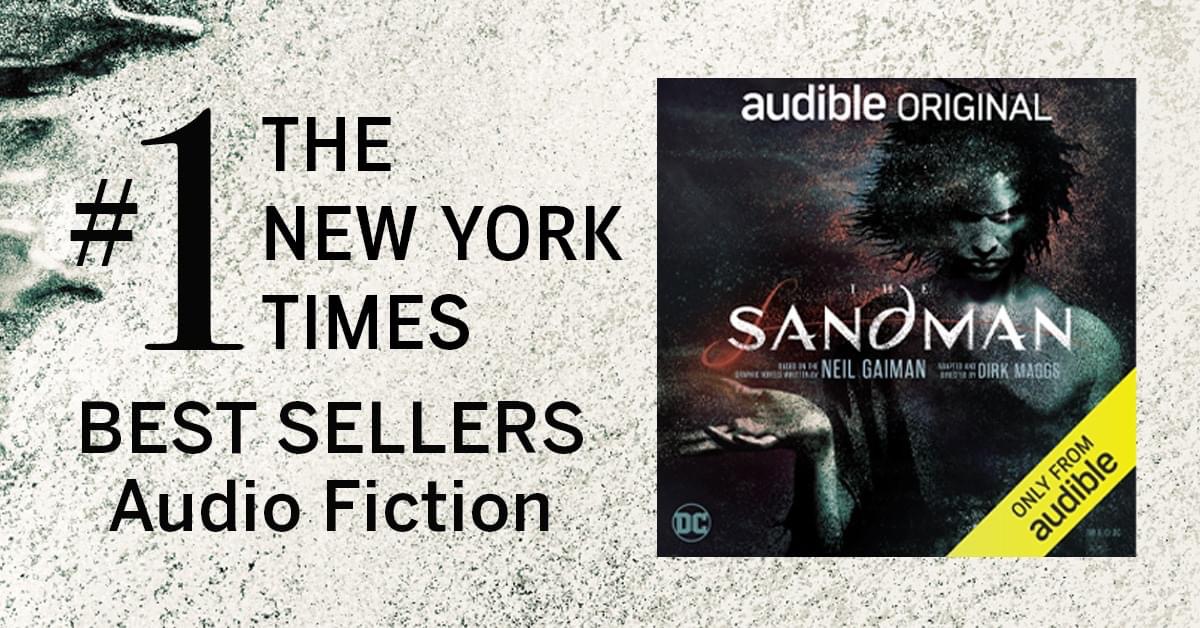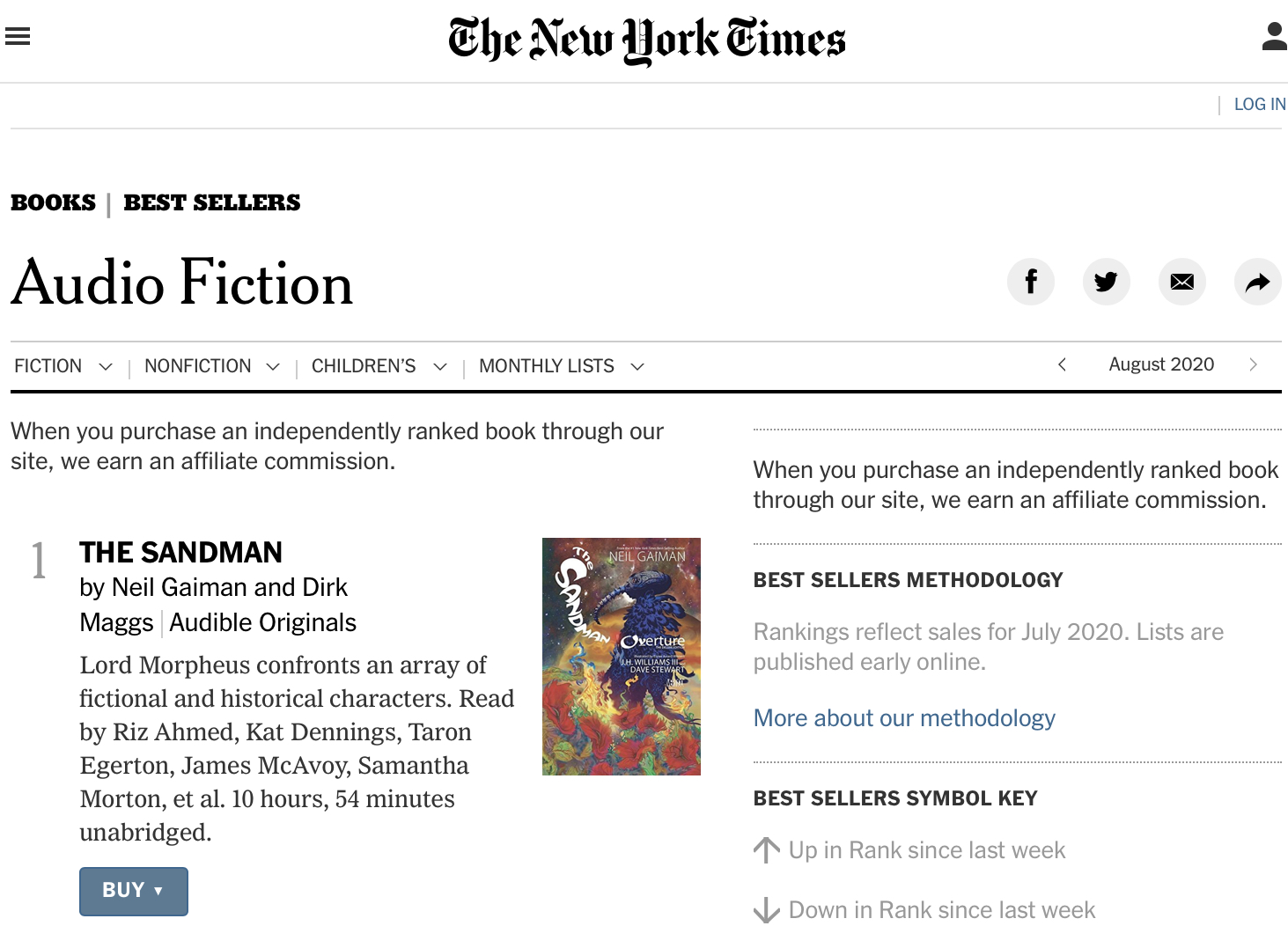 2019
SPIKE MILLIGAN'S PUCKOON
THE CAST OF PUCKOON
with PAULINE McLYNN and JANE MILLIGAN
BARRY CRYER as 'The Author'
WILF SCOLDING and TOM ALEXANDER
November 2019
HONORARY DOCTORATE THE UNIVERSITY OF BOURNEMOUTH

Dirk with his wife Lesley at the Investiture
With Kate Adie, Chancellor of Bournemouth University
Dirk and Neil in Winchester Cathedral
May 2019
THE HITCHHIKER'S GUIDE TO THE GALAXY VINYL COLLECTIONS
Through 2018 and 2019 the DEMON MUSIC GROUP released a series of beautifully designed and put-together vinyl collections in deluxe bindings of THE HITCHHIKERS GUIDE TO THE GALAXY, signed by those of us most closely connected with Douglas Adams's epic work. I was happy to sign copies of THE TERTIARY PHASE with a little help from our 'Live Hitchhikers' version of Marvin The Paranoid Android.
The latest (and last) of these collections is the HEXAGONAL PHASE, released to celebrate the 42nd Anniversary of Hitchhikers in May 2020

April 2019
U.S. AUDIE AWARD FOR BEST SCIENCE FICTION PRODUCTION
THE HITCHHIKER'S GUIDE TO THE GALAXY HEXAGONAL PHASE
ALIEN III
March 2019
THE GOODIES RETURN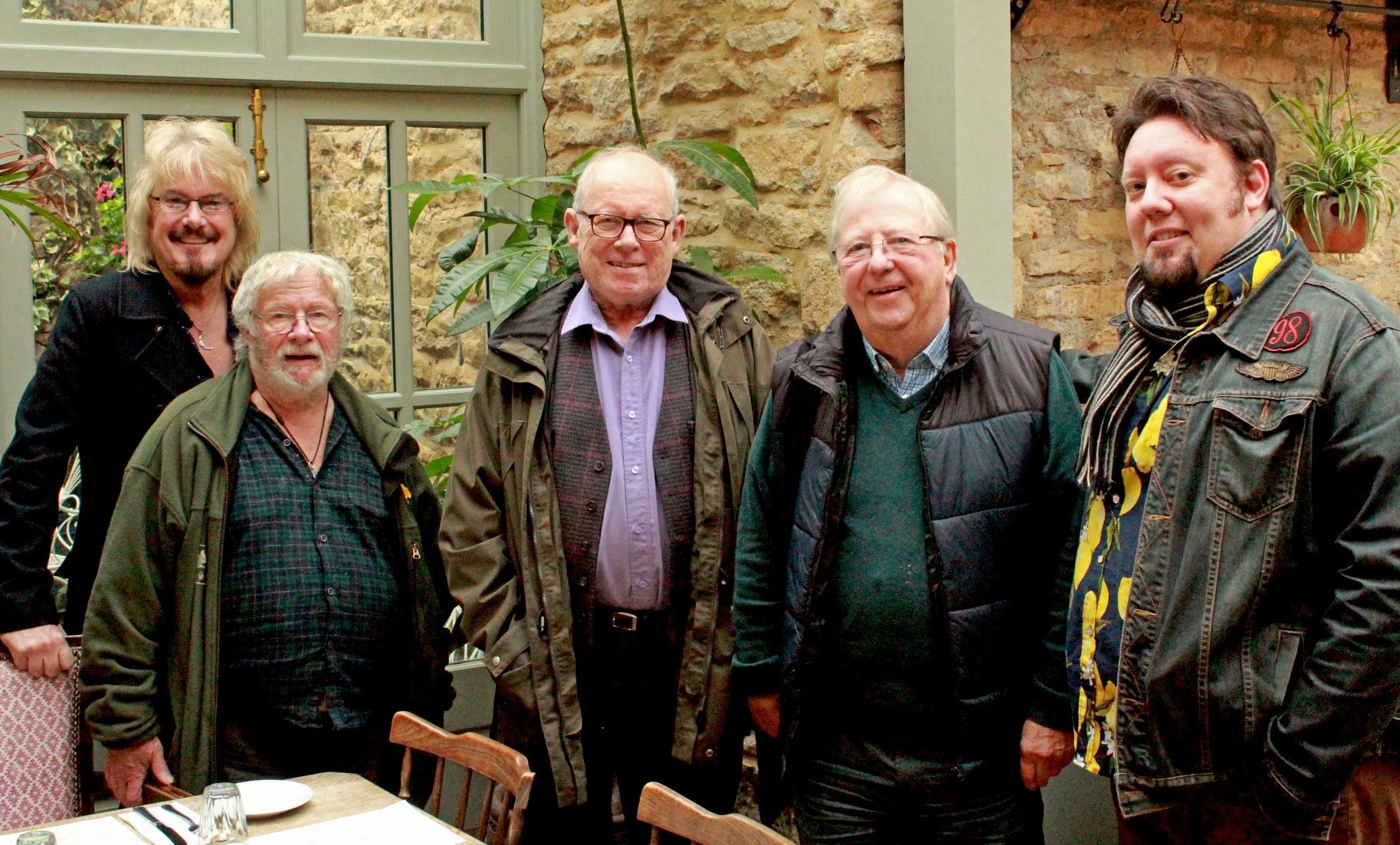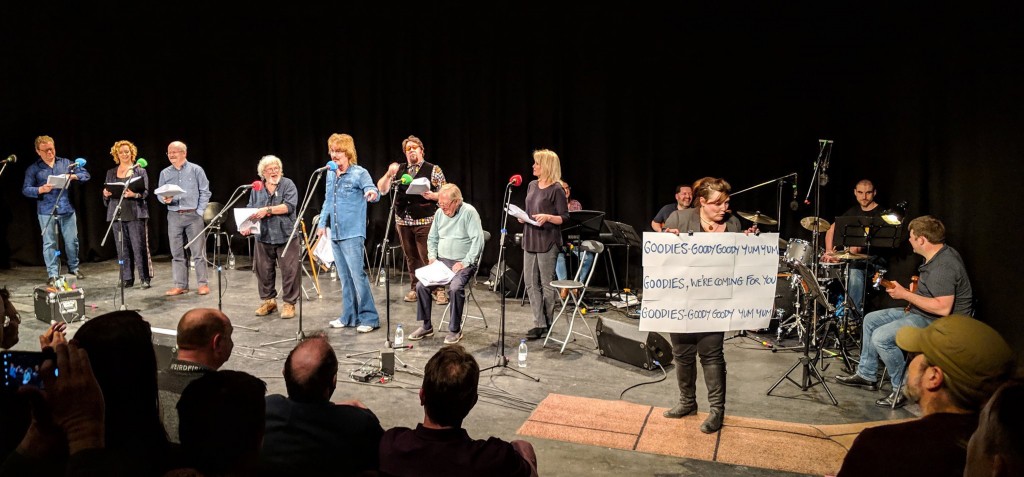 February 2019
VOYAGE
Dirk's 1999 adaptation of Stephen Baxter's ground breaking 'what if' novel about the first manned mission to Mars is released digitally on its 20th anniversary.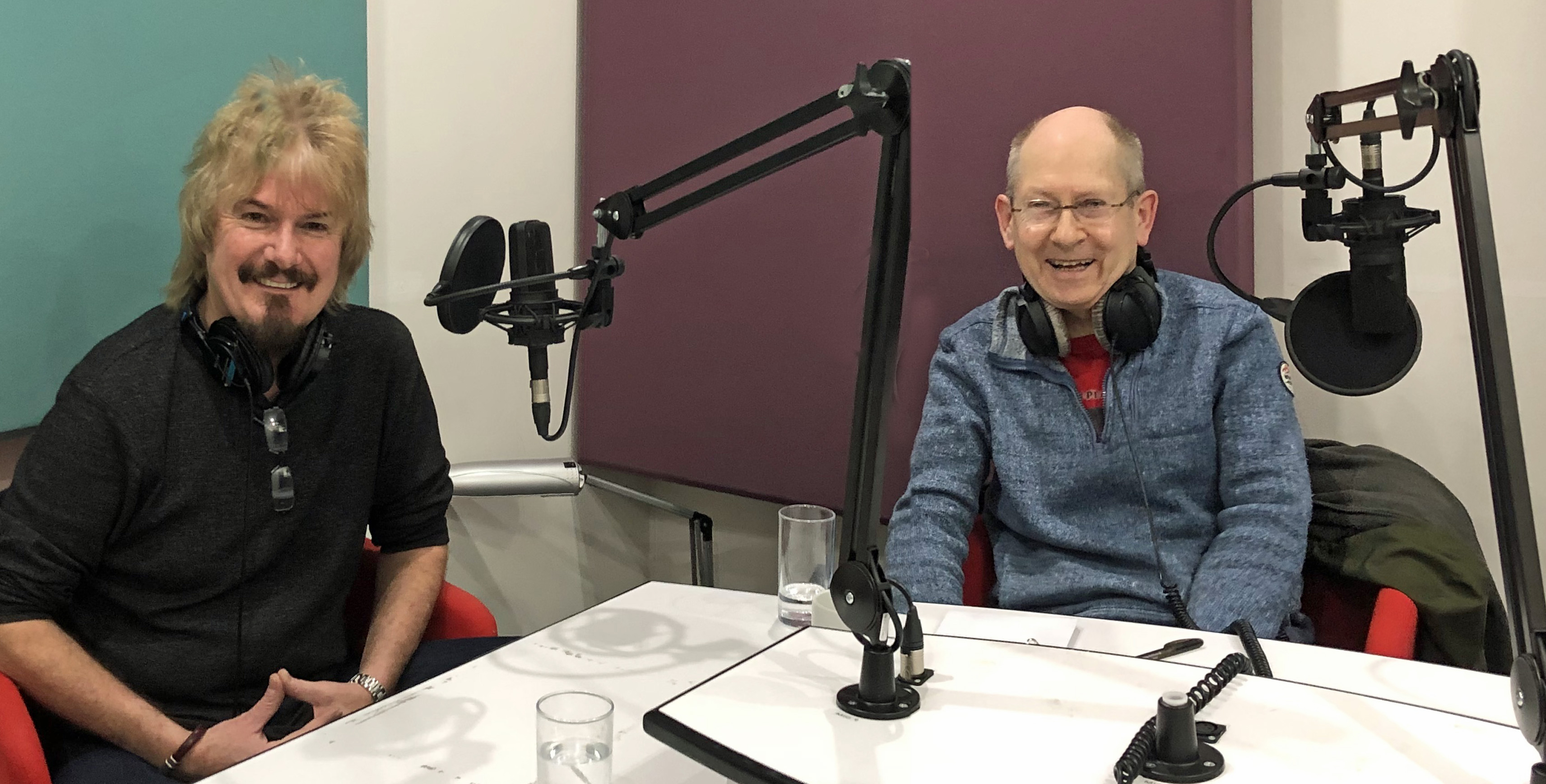 Dirk and Stephen Baxter
December 2018
Dirk talks to London RadioTechCon about making the final Hitchhikers Radio Series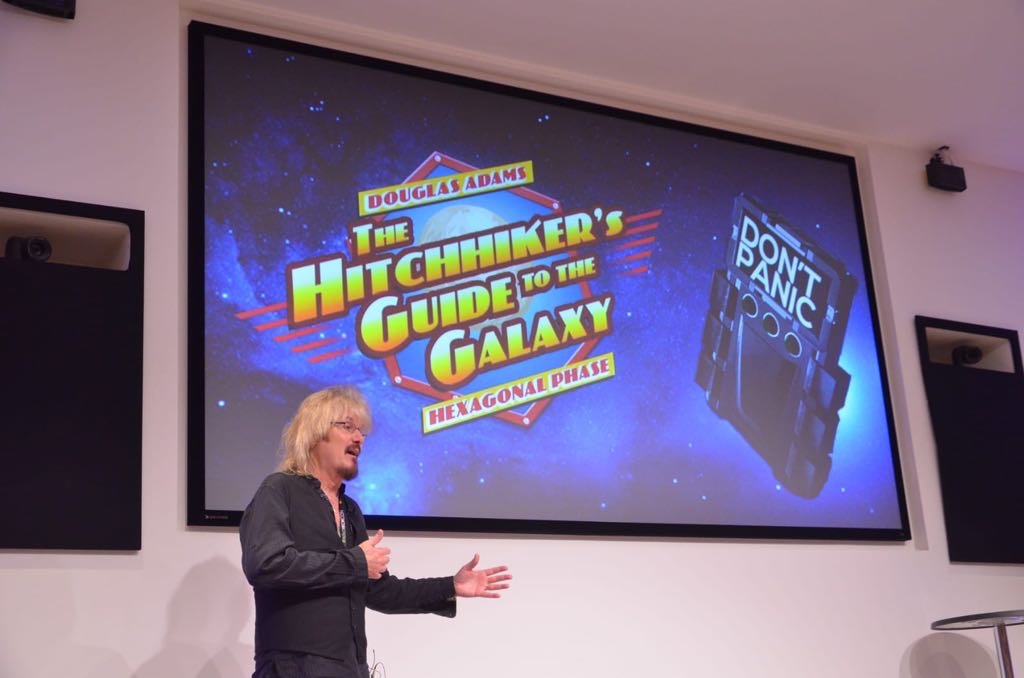 March 2018
THE HITCHHIKER'S GUIDE TO THE GALAXY HEXAGONAL PHASE
Dirk with John Lloyd
Written, produced and directed by Dirk Maggs, based on "And Another Thing" by Eoin Colfer with unpublished material by Douglas Adams.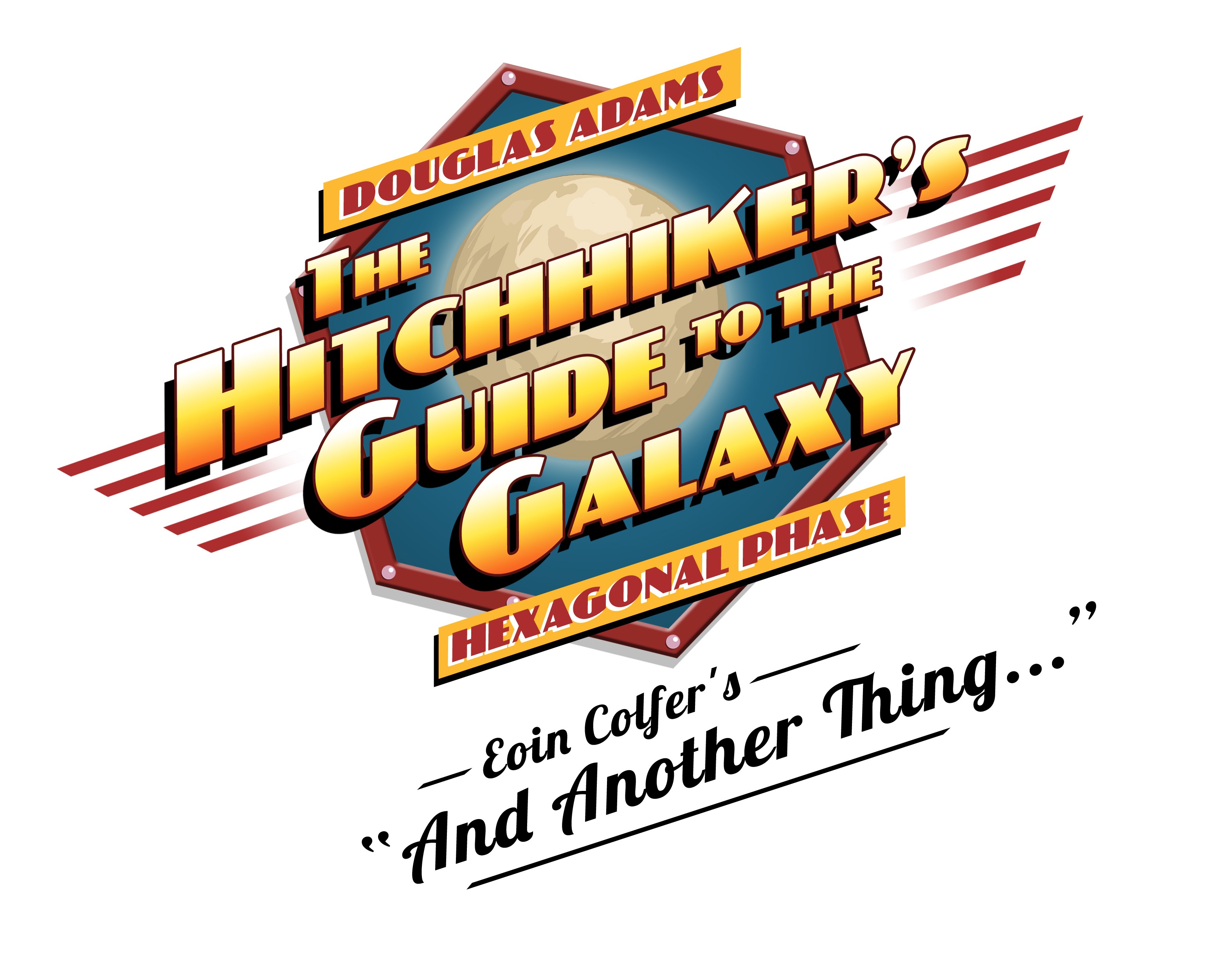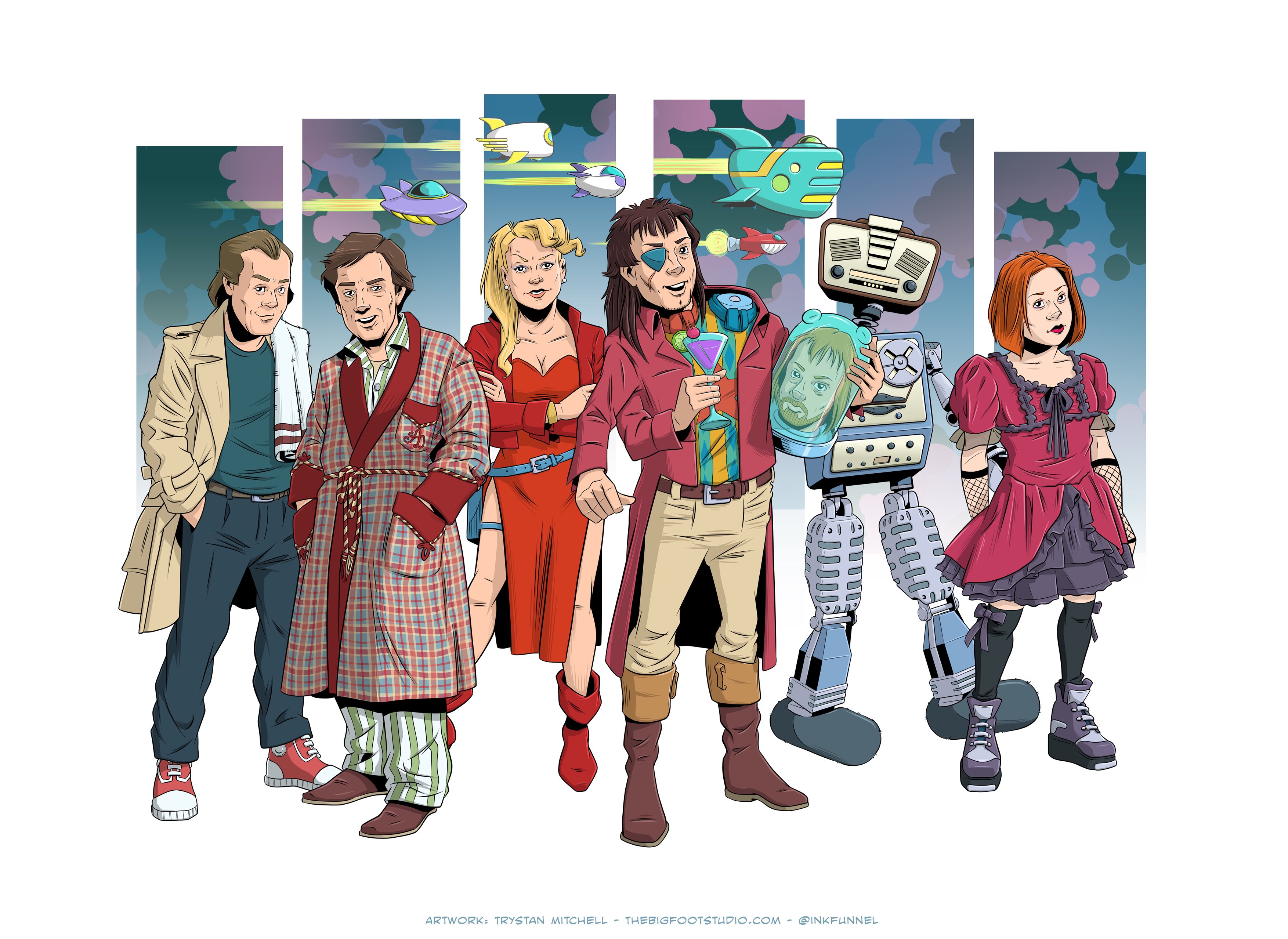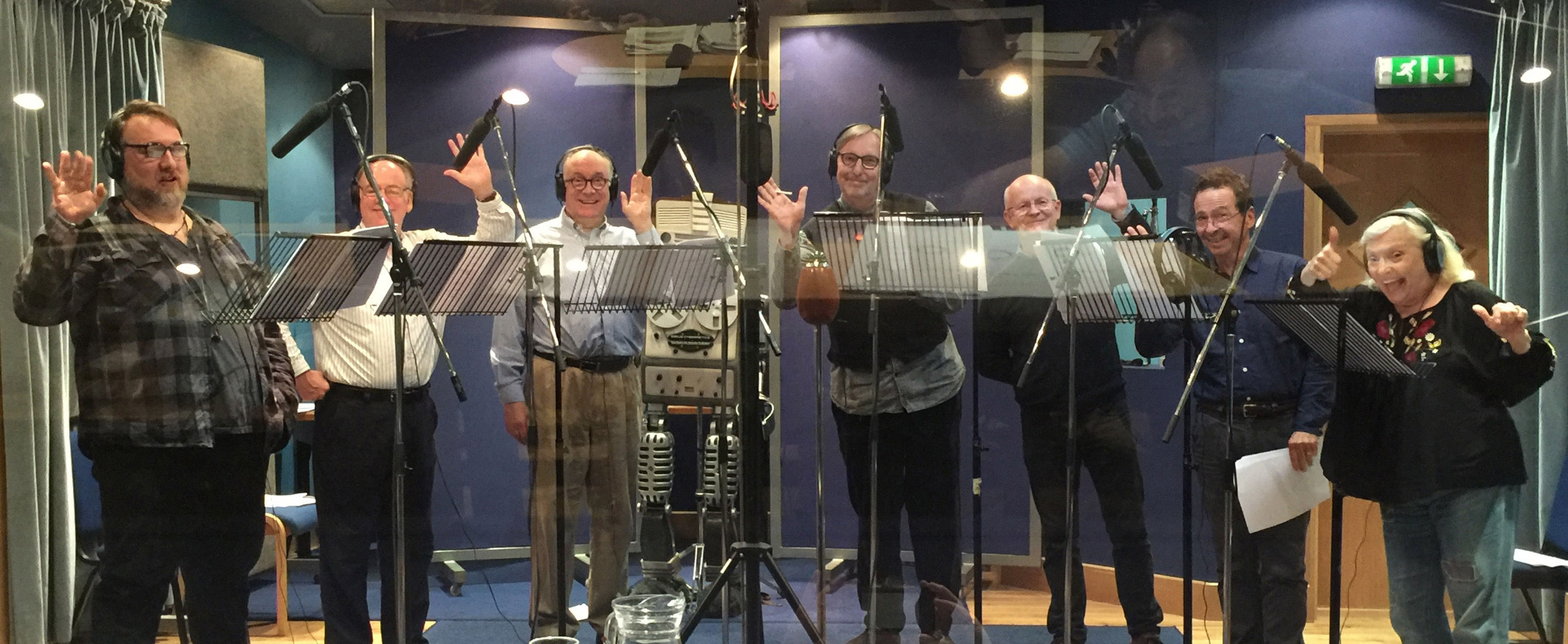 ---
July 2018
Terry Pratchett's UNSEEN ACADEMICALS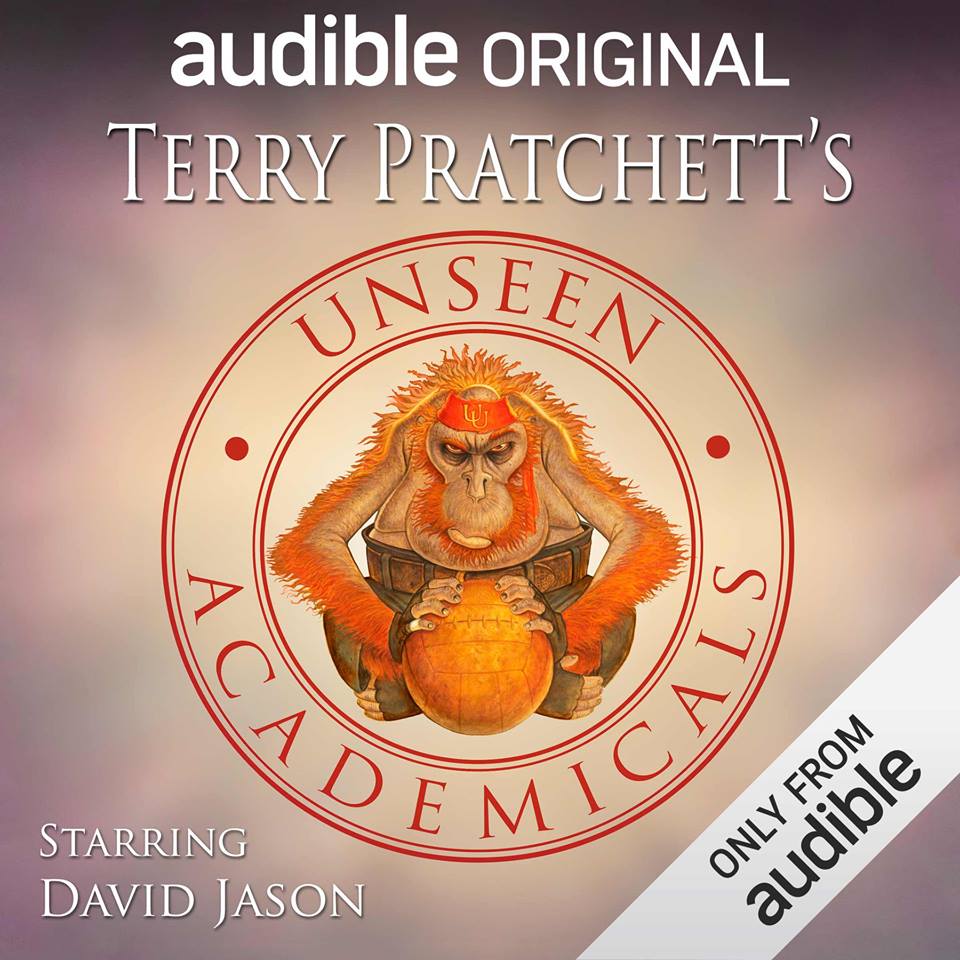 April 2018
ALIEN – SEA OF SORROWS
Starring Stockard Channing, John Chancer, Laurel Lefkow, Tom Alexander, Mark Arnold, Sagar Arya, Pippa Bennett-Warner, Laurence Bouvard, Philip Bulcock, Cedric Cirotteau, Simon Darwen, Andrea Deck, Oris Erhuero, Tony Gardner, Walles Hamonde, Andrew James Spooner, Lorelei King, Tayla Kovacevic Ebong, Sandra-Mae Luyck, Theo Maggs, Alan Marriott, Gary Martin, Pauline Mclynn, Eric Meyers, Naoko Mori, Sarah Pitard, Kerry Shale, Thomas Stroppell, Emma Swan, Martin T Sherman, Steve Toussaint and Ryan Wichert.
January 2018
THE FINAL TAKE: BOWIE IN THE STUDIO
by David Morley Starring Jon Culshaw Directed by Dirk Maggs
RADIO ACADEMY 2018 ARIA AWARDS BRONZE WINNER
2017
ANANSI BOYS by Neil Gaiman
Adapted for BBC Radio 4 by Dirk Maggs
British Fantasy Society Award Best Audio 2018
Starring Lenny Henry, Jacob Anderson, Earl Cameron, Tanya Moodie, Julian Rhind-Tutt, Julie Hesmondhaugh, Nathan S Jarrett, Pippa Bennett-Warner, Sheila Atim and Adjoah Andoh.
THE X-FILES – COLD CASES
Starring DAVID DUCHOVNY and GILLIAN ANDERSON
Released from July 2017 – Directed by William Dufris and Fred Greenhalgh
Adapted and Executive Produced by Dirk Maggs
with MITCH PILEGGI, WILLIAM B. DAVIS, TOM BRAIDWOOD, DEAN HAGLUND and BRUCE HARWOOD
ALIEN: RIVER OF PAIN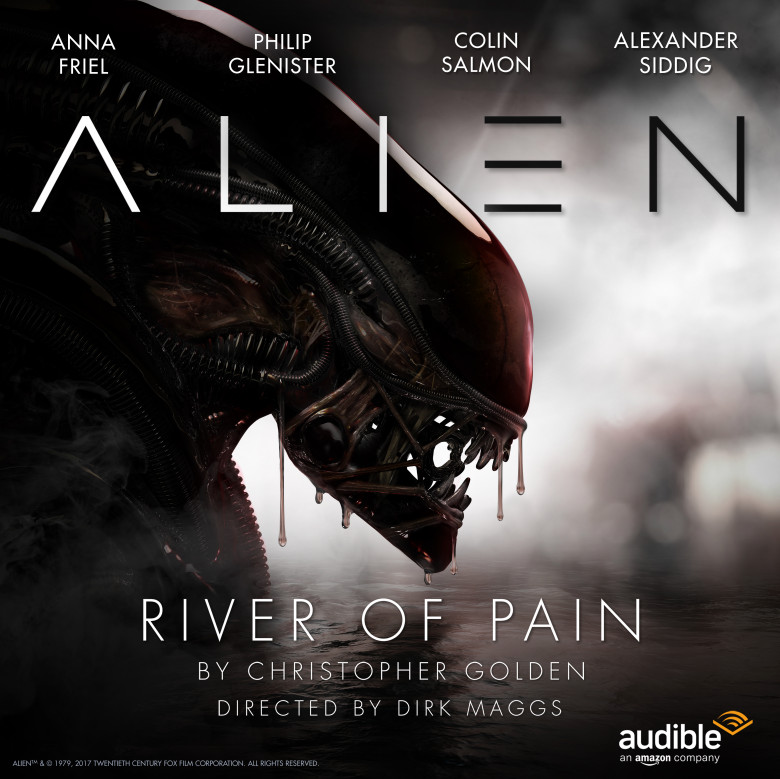 2016
DECEMBER 2016 – STARDUST
Broadcast 17th / 18th December 2016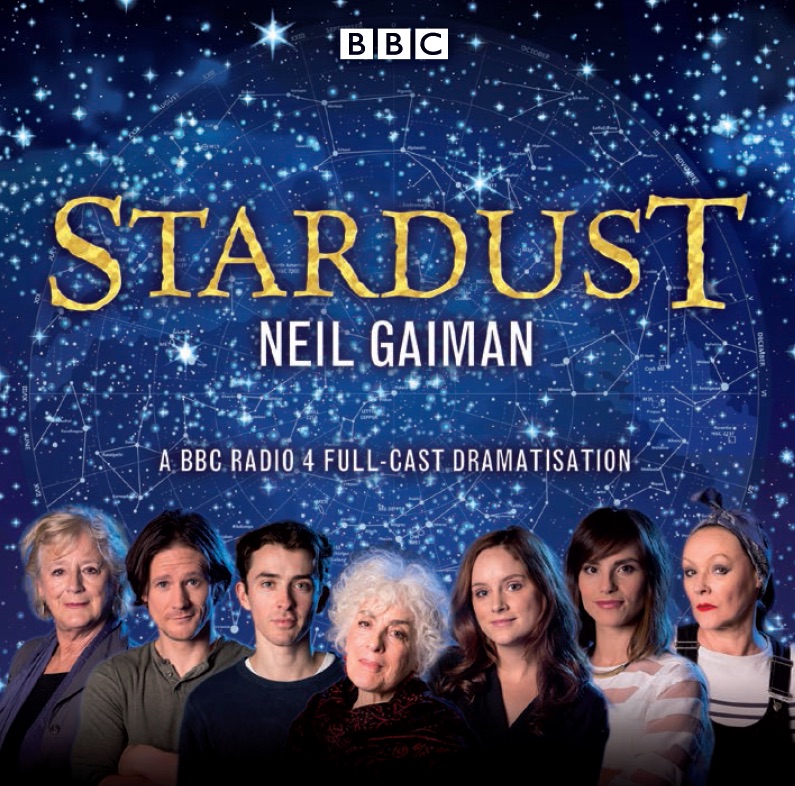 NEIL GAIMAN's fantasy epic became an immersive audio adventure in two 60'00 parts, adapted and co-directed by DIRK MAGGS.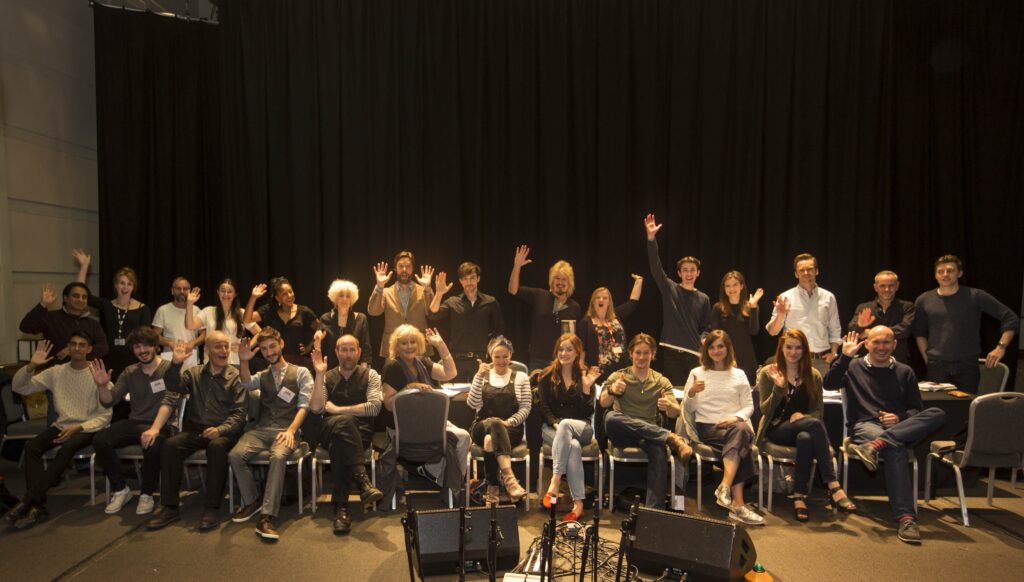 Returning to the world of NEVERWHERE, this sequel to our 2012 audio movie stars PATERSON JOSEPH, ADRIAN LESTER, BERNARD CRIBBINS, DON WARRINGTON and MITCH BENN, with a guest appearance by JAMES McAVOY
---
---
ALIEN: OUT OF THE SHADOWS
Adapted, Directed and Produced by Dirk Maggs
Released on April 28th 2016
"Great sound effects; chilling story, on the edge of your seat suspense mixed in with hollywood-class acting … it really is like playing a movie in your head." (Audible webpage review)
Photos and artwork on this site are owned and copyright rests with their respective owners.